Pundy Yokouchi Golf Tournament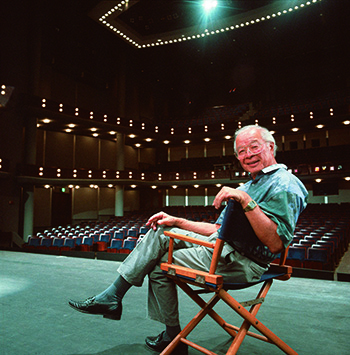 29th Annual Pundy Yokouchi Memorial Golf Tournament
Saturday, Apr 22, 2017 - The Dunes at Maui Lani
With your participation, you are part of a special group honoring and sustaining founding chairman Pundy Yokouchi's vision for the Maui Arts & Cultural Center, a nonprofit organization whose mission is to inspire people through personal and shared experiences of the arts. The funds raised from the tournament are vital to the MACC's arts, Hawaiian culture, community enrichment and education programs, which reach more than 230,000 people annually.

Maui Arts & Cultural Center's Founding Chairman, Masaru "Pundy" Yokouchi, rose from humble beginnings in his family's small bakery, to prominence in Hawaii as a businessman, champion of the arts and the builder of community. His greatest legacy is the Maui Arts & Cultural Center, nicknamed "The MACC"; it is the most comprehensive multidisciplinary arts facility in Hawai'i. Since 1994, The MACC has served more than four million people, including 350,000 students through arts education programs, and 900 teachers through professional development opportunities. Forty percent of the annual operating costs of these programs must be covered by donations, and each year the Pundy Yokouchi Memorial Golf Tournament makes a significant contribution to the funds raised so that The MACC can continue to serve all of greater Maui.
Mahalo for playing golf with us and we look forward to seeing you at the 29th Annual Pundy Yokouchi Memorial Golf Tournament on Saturday, April 22, 2017
Stay tuned to this page for exciting new updates to be added to the 2017 golf tournament!
Registration information and deadlines for players and sponsors for the next tournament will be announced in the coming season.
MAHALO TO OUR GENEROUS SPONSORS IN THE 2016 TOURNAMANT!
GOLD SPONSORS
Dunes at Maui Lani
Alexa Higashi
First Hawaiian Bank
Maui Linen Supply
Yokouchi Foundation
SILVER SPONSORS
Finishing Touch Roofing
Hawaiian Commercial & Sugar Company
BRONZE SPONSORS
Dorvin D. Leis Co., Inc.
Alan and Carol Arai
Takitani Agaran & Jorgensen
Truss Systems Hawaii, Inc.
HOLE–IN-ONE SPONSORS
Cycle City Maui & JN Auto Depot
Island Honda
HOLE SPONSORS
Aloha Poi Factory · Bank of Hawaii · Classic Resorts, Ltd. · ECM, Inc. – Electrical Engineering Consultants · Kihei Gardens & Landscaping Company, LLP · Old Republic Title & Escrow · Shore to Shore Realty, Inc. · Swinerton Builders
PRIZE DONORS
Hotels
California Hotel & Casino · Classic Resorts · Hyatt Regency Maui Resort & Spa · Ka'anapali Beach Hotel · Maui Coast Hotel · Moana Surfrider · Sheraton Maui Resort & Spa · Sheraton Waikiki Resort · The Westin Maui Resort & Spa
Golf Courses
Maui Country Club · Poipu Bay Golf Course · The King Kamehameha Golf Club · Nike VRS Hybrid Golf Clubs, on behalf of Clifford Beppu · The Dunes at Maui Lani Golf Course · Wailea Golf LLC
Activities
Ameritone Maui · Haleakala Bike Co. · Maui Jim · Pacific Whale Foundation · PWC Hawaii Corporation · Roberts Hawaii · Trilogy Excursions · Warren & Annabelle's Magic · Webco
Restaurants & Food
Brigit & Bernard's Garden Cafe · DK Restaurants – Sansei · Foodland Hawaii · Four Seasons Resort Maui · Hula Grill Ka'anapali · Kimo's Restaurant · Koho Grill & Bar · Kula Bistro · Lahaina Grill · Lahaina Pizza Co. · Mala & Honu · Mama's Fish House Restaurant & Inn · Maui Disposal Co., Inc. · Marco's Grill & Deli · Monkeypod Kitchen by Merriman · Na Hoaloha Ekola, LLC, Star Noodle · Napili Kai Beach Resort · Polli's Mexican Restaurant · Roy's Ka'anapali · Sam Sato's Inc. · Stopwatch Bar & Grill · Three's Bar and Grill · Tokyo Tei Japanese Restaurant · Zippy's Restaurants
Special Mahalo to:
A1 Refrigeration Air Conditioning & Sheetmetal Inc. · Home Maid Bakery · Maui Soda & Ice Works Ltd. · Meadow Gold Dairies, Inc · Surf Rents Trucks · Takamiya Market · Tanikai, Inc.
GOLF TOURNAMENT COMMITTEE: Alan Arai, Norma Badoyen, Pat Matsumoto, Garrett Okamura, Leo Polo, Richard Takase, Tony Takitani

VOLUNTEERS: Darlene Abt, Lani Akamine, Pat & George Borg, Claire Cerizo, Pat Coleman, Dori Dudoit, Bebe Ferrari, Dorinda Giles, Jerry Hayashida, Kathy Holland, Rose Hurtado, Ed Mathay, Mikeline Meurs, Katelyn Mollak, Guy Muraoka, Donna Ponce, Ken Rawski, Adele Rugg, Harolyn Tanji, Marilyn Tsang, Katherine Wood