Maui Arts & Cultural Center's Artists in the Community program redefines the relationship of artist to audience, and embodies The MACC's enduring belief in the ability of the arts to build community. Through a multitude of free events throughout the year, The MACC brings performing artists into local schools, senior centers and social service agencies, reaching out to people throughout Maui County in the places where they live, go to school, or gather to socialize — including Hāna, Lāna'i and Moloka'i. Through shared personal experiences with performers from around the world, Maui Nui residents experience the transformative power of the arts. In return, our visiting artists feel the strength of aloha from our community. Our outreach activities provide shared benefits: the 'aha' moments that occur not only enrich the community, but are also insightful for the participating artists ... and therein lies the potential for great exchange, sharing and growth.
Most recently:
Mai Poina: The Overthrow
A theatrical production brought to life by the Hawai'i Pono'ī Coalition, telling of the tumultuous last four days of the Hawaiian monarchy from the perspective of native Hawaiians and other citizens of the kingdom. Followed by an open discussion with Hawaiian scholars, to inform and inspire.
On Friday, September 19, 2016, the cast from O'ahu performed this dramatic work to a full house of students in the McCoy Studio Theater - approximately 300 young people who had come to the MACC for this school show. Immediately after, the cast traveled to Kamehameha School Maui to perform for all students in the high school and eighth grade, approximately 560 students.
Nyla Fujii-Babb, who plays the role of Queen Lili`uokalani in Mai Poina: The Overthrow, was full of emotion for the impact of these performances, as she felt so strongly that they were reaching the audience for whom this presentation was most intended - the youth of Hawai`i.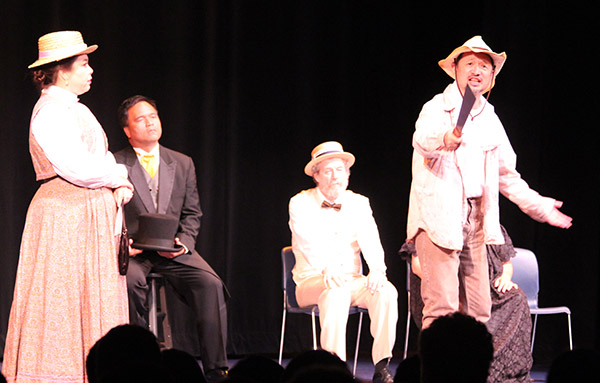 other activities:
Henry Kapono, Brother Noland and John Cruz at Maui High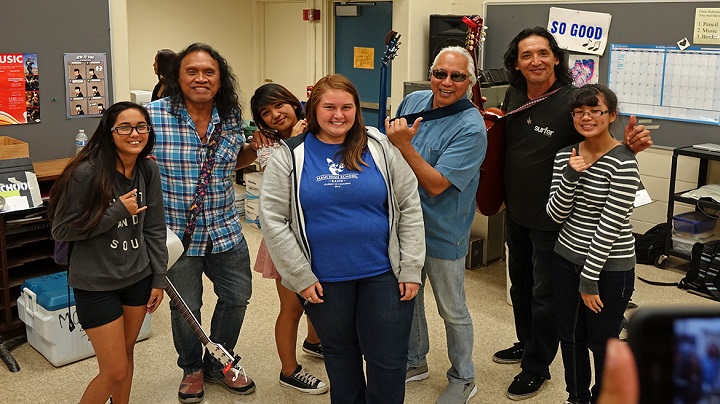 Al Jarreau with students from Baldwin High School Performing Arts Program