Dimensions
The Proscenium opening is 50' wide x 28' high
The distance from the plaster line at center stage to the…
Back-of-house, orchestra level is 73'
mezzanine railing is 62'
back-of-house, mezzanine level is 82'
back-of-house, rear balcony railing is 97'
down-stage edge of orchestra lift is 15'
down-stage edge of apron is 3'
upstage wall is 45'
last fly line is 41' 11"
1st catwalk in the front-of-house is 40'
2nd catwalk in the front-of-house is 61'
Front-of-house mix position is 58'
Upper-box boom pos. -close 58' -far 70'
Lower-box boom pos. -close 36' -far 40'
The distance from the stage center line to the…
locking rail stage left is 40'
stage right wall is 56'
stage right edge of wood floor where it turns to concrete is 42'
The distance from the stage floor to the…
audience floor is 3'6"
ceiling stage right under pin rail is 13'6"
pin rail is 37'
upper loading bridge is 71'
gridiron over the stage is 74'
bottom flange of roof I-beams is 82'
The distance from the house center position to the…
house side walls is 43'
front-of-house mix position is 22'
House Lighting System
At your request, we can email a Vectorworks file or a PDF of the house lighting plot.

On the right side of the plot is the line schedule with dimensions from the plaster line.

An inventory of our lighting fixtures and console type is also listed on the plot. Most of the theater lights are conventional but we do have some moving lights in the rig and some LED wireless fixtures.
We also have an extensive inventory of moving lights, strobes, blinders, ACLs and LED wired and battery/wireless fixtures available. Please check with the Technical Director as these fixtures may have extra costs associated with them.

All dimmable conventional fixtures use 20 amp stage pin connectors while many of the non-conventional lights use Edison connectors.

Side lighting is pipe and base. There are no ladders or tail-downs.
We can also email an Excel sheet of the line schedule showing positions of electrics, curtains, and other hung goods. Load weights are included. Most battens are 6" on center and it is a single purchase fly system.
A variety of accessories are available including barn doors, donuts, snoots, pattern holders, and alternative PAR64 lamps (NSP, MFL or WFL). We have an assortment of color gels in stock.
Lighting Control
The lighting system control is an ETC Ion Console with 60 faders and dual touchscreens. Remote focus units are available (IRFR and through a dedicated mobile device).
A grandMA 2 light console may also be available unless it is in use in another venue.
Dimmers
The dimmers are Strand CD-80's and there are (323) 2.4K dimmers and (10) 6K dimmers, totaling 333 usable circuits.
Follow Spots
There are two Strong xenon Super Trouper 1.6K short throw follow spots, permanently housed in an enclosed booth above the top balcony. Distance to the plaster line is approximately 100'. The follow spots are spaced approximately 16' apart from each other.
Audio System
Our current FOH console is a Yamaha CL5 digital mixing console, Built-in Meter Bridge, 72ch and 8 stereo with 2 Rio Stage Boxes and iPad app.
A 2nd Yamaha CL5 is network-connected and serves as a monitor desk located on stage right.
A 32ch Yamaha LS9 console is also available.
If an analog desk is preferred, we have a Midas Heritage H2000 with 44mono and 4 stereo inputs. There is a rack with compressors, compressor/limiters, gates, and playback units.
Another available analog console is a Yamaha PM4000.
For monitor wedges, we have 6 Fulcrum FA12AC Powered Monitors.
The speaker system consists of a Meyer line array with 10 Mica cabinets per side.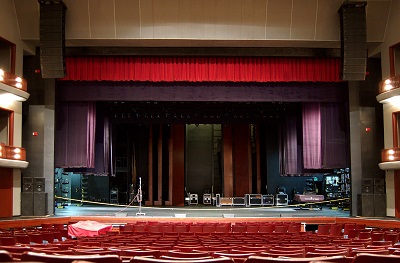 On each side of the stage, just in front of the proscenium, is a ground stack of 2 Meyer HP700 subs with 2 Meyer CQ1s on top. Additionally, Meyer M1Ds can be laid across the lip of the stage for front fill.
As for side fills, we usually use our Meyer UPA-1Ps or Meyer CQ1s.
We have a stock of auxiliary speakers depending on the need which includes EAW 850s, JBL VRX speakers, JBL4642As, Meyer U
PJ 1Ps, additional HP700 subs and some EV monitor wedges.
We have plenty of mics, stands, Dis, and cables to accommodate most performances.
Clear-com communication is wired to several locations within the theater and a limited number of wireless headsets are also available.
Power
There are two Cam-Lok disconnect panels located on the wall upstage right. Each panel is 3-phase 400A.
There is one Cam-Lok disconnect panel 3-phase 100A located upstage left.
There is a 3-phase 30A Cam-Lok disconnect panel in the grid above the stage.
There are two Cam-Lok disconnect panels located outside on the loading dock. One is 3-phase 100A, the other is 3-phase 200A.
There is one 3-phase 100A Cam-Lok disconnect panel located downstage right (Sound Power).
We have portable power distribution racks available with individual 20A duplex receptacle circuits and 208V receptacles that could tie in to any disconnect panel.

Flyrail
All lines are controlled from the locking rail on stage left. The loading bridge is located approximately 71' above stage level and has approximately 50,000 lbs. of available weights. Additionally, weights can be loaded from a fly gallery at the pin rail located 37' above stage level.

Support Steel WLL (Working Load Limit):
Headblock & Loftblock Beams: 1,100lbs 6" on center
Gridiron Deck: 50lbs / square foot
Rope Block Wells: 500lbs / linear foot
Loading Gallery Deck: 750lbs / square foot
Pin Rail: 500lbs / linear foot uplift
Manufacturers listed WLL:
Wire Rope: 1/4" 7 x 19 galvanized aircraft cable with 7000lbs breaking strength
Head Blocks: 3000lbs load limit
Loft Blocks: 750lbs load limit
Rail: 500lbs per linear foot

Orchestra Shell
Our acoustically reflective, African mahogany wood orchestra shell consists of seven 30' tall rolling towers and three ceiling pieces (clouds). With multiple configurations available, the largest is designed to accommodate up to 100 musicians. When stored, the tower units live in an upstage cove, and the clouds are permanently hung on line sets 14, 32, & 47 and cannot be moved. The two downstage clouds are on motorized line sets while the third, upstage cloud is manually operated. The two downstage clouds have built-in lighting and with the addition of front of house lighting positions, provide a full-stage dimmable wash.

NOTE: The main curtain cannot travel when the orchestra shell is in place.
Orchestra Pit
There is an adjustable orchestra pit powered by a Gagnon LaForest tubular thrust screw lift system. The Pit can be set from stage level to 13' below stage level. The Pit is 56' wide at its widest point and 12' deep on center. Four rows of 72 seats are removed when the pit is used as an extension to the stage or lowered to accommodate an orchestra or to be used as a dance floor. The "default" configuration of the pit is at audience level with seats installed. There is a charge for the removal and replacement of the pit seats and decisions to do so must be made before tickets go on sale. Pit surface is the same as the stage floor. Pit controls are located either down stage right or on the pit. Trap doors on the pit surface provide access to microphone, line, communications, and AC power.

We have 65 black, padded, Wenger musician chairs plus 5 padded cello chairs. We have approximately 40 black Manhasset music stands.
Backline & Grand Pianos
We have limited backline which includes guitar and bass amplifiers.

We have a 9' Steinway concert grand piano, D Model with ebony finish.

We also have a 9' Yamaha CF grand piano with ebony finish.
We work with local vendors for other backline equipment. Contact our technical director for more information.
Projection
Our projection booth is located at the back of the house on the mezzanine level (86' distance from movie screen). A Christie Roadster HD 12K projector can be positioned in the booth. Doing this, however, will kill seats in the mezzanine that are within the projection path.

We have two Eiki projectors - Model LC-HDT700. While they are lower-lumen 7K projectors, they are identical and can be combined in dual-projection.

Our 48' wide x 22' high PVC perforated projection screen hangs downstage on line set 6 and nearly fills the proscenium. A border and adjustable side masking can reduce the size to fit the video format.

We also have 2 projection screens at 10.5'H x 18.5'W which can hang from a batten or stand on legs. These screens are dual-view and can be projected onto from the front or from behind.
The Center has a Folsum Presentation Pro switcher (VGA out only), laptops, DVD and BluRay players.
Contact
Please contact Technical Director, Mark Astrella, for additional information:
808-243-4243