Programs for Teachers
Our current catalog for MACC's
arts education programs 2017-18!
---

PROFESSIONAL DEVELOPMENT SERIES (SY2017-2018)
This series of Professional Development focuses on arts integration and arts strategies. The teaching-artists who share their techniques and strategies come from the John F Kennedy Center, the Hawaii State Foundation of Culture and the Arts, as well as Maui's own community of artists and teachers. These workshops help teachers to infuse their instruction with the arts which in turn makes their teaching more engaging, increase retention, and allows non-academic students to shine through their own unique skills, talents, and perspectives.
The catalog and registration forms for this year's Professional Development Workshops is now available!!
note: all Registration will be conducted via email this year.
CLICK HERE for fillable PDF Registration Form


---
SUMMER INSTITUTE FOR EDUCATORS 2017
Every summer the Maui Arts & Cultural Center designs and hosts an instutute devoted to the professional development of Maui County teachers. We bring in some of the leading teaching artists, recognized by renowned arts education institutions like the John F. Kennedy Center and the NAEA. Our goal is to gather great minds to share their expertise and cutting edge strategies with our teachers, to infuse their instruction with the arts.
---
Summer Institute 2017
Featured the "Journal Fodder Junkies" Eric M. Scott and David Modler
Sessions for elementary and secondary teachers, completed June 2017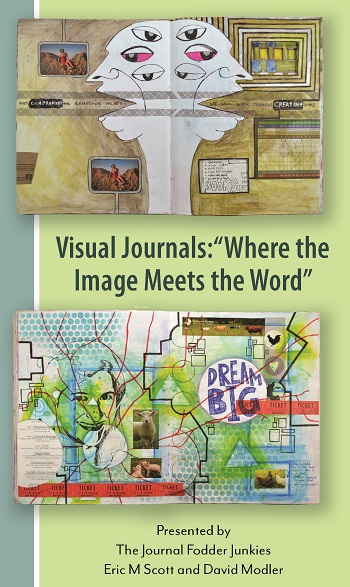 Part sketchbook, part scrapbook, and part reflective space, the visual journal can be a powerful tool for learning, understanding., and asses
sment. Explore the creative possibilities of this format as you engage in a wide range of art making activities and writing exercises. Experiment with different media, techniques, and concepts to prime the pump of creativity, and collaborate with your colleagues to consider the possibilities of the visual journal in the classroom, in the studio, and in everyday life. Discover the potential for the imagination to stretch out in the pages of your own visual journal, and experience the adventure and freedom of visual journaling. Walk away with the confidence and enthusiasm to bring this valuable process into the classroom where it will serve as a connecting point for thoughts, feelings, images, and the written word for all of your students. Goals:
Knowing what a visual journal is and being comfortable using the journal personally and professionally.
Understanding the connection among the learning modalities and how the visual journal naturally encourages that connection making it a powerful educational tool.
With an array of art techniques and materials that can be easily used in the visual journal and implemented within any classroom.
With a variety of writing exercises, techniques, and activities that will enhance student engagement and learning.
With confidence in your own creativity and natural making ability.
With an appreciation for what true cross curricular collaboration is and how arts integration enhances all subjects and curricular areas.
"I was absolutely mesmerized by the Journal junkies when I signed up for their workshop at NEA 2011.
Their teacher stories captivated me, the visual impact of their personal journals delighted me..."
- Jan Sato, Baldwin High School art teacher
Mahalo and
Well Done!
to those who joined us at the Summer Institute!
If you would like to check out what went in this past institute, click here:
SUMMER INSTITUTE 2017

News about the 2018 Institute will be announced in spring 2018.
---
TEACHER AWARDS DINNER
Once a year, the Maui arts and Cultural Center honors the educators on this island with a celebratory dinner and award ceremony recognizing their commitment to the arts and professional development. It is a time and place for teachers to garner the recognition of their principals and their peers for the noble work that they do!
Forty-two teachers from eleven Maui schools received Certificate of Study Awards at Maui Arts & Cultural Center during the Annual Teacher Awards Dinner on Thursday, April 20, 2017. The awards were presented by Chadwick Pang, education director at MACC; Leila Hayashida, Baldwin-Kekaulike-Maui Complex Area Superintendent; and Rae Takemoto, arts integration curriculum coordinator at Pomaika'i School.

Heather Grossman-Benton, Wileen Ortega, Evelyn Suzuki,
Roselani Aiwhoi, Lori Mark,Trisha Roy (level 1 teachers)


Joann Shishido, Eva Johanos, Cindy Hutler
(level 2 teachers)


Nicole Heinlein (level 3); Michelle Gollis (level 5);
Dawn Marie Lahela Augustin (level 6)


Jennifer Saito, Stephanie Young (level 9)
Theresa Neeck (level 10)



Master Teacher in Arts Integration

Jaydon Isobe, Renee Romerdahl (L2); Kate Welch (L6)


Molokai 9th grader Kapili Naehu from Kaunakakai, Molokai, presented
her original Spoken Word piece as part of the evening's program