Programs for Teachers
PROFESSIONAL DEVELOPMENT: SUMMER INSTITUTE FOR EDUCATORS
Every summer, the Maui Arts & Cultural Center designs and hosts an institute devoted to the professional development of Maui County teachers. We bring in some of the leading teaching artists, recognized by renowned arts education institutions like the John F. Kennedy Center and the National Art Education Association. Our goal is to gather great minds to share their expertise and cutting edge strategies with our teachers, to infuse their instruction with the arts.
click for 2019 Summer Institute BROCHURE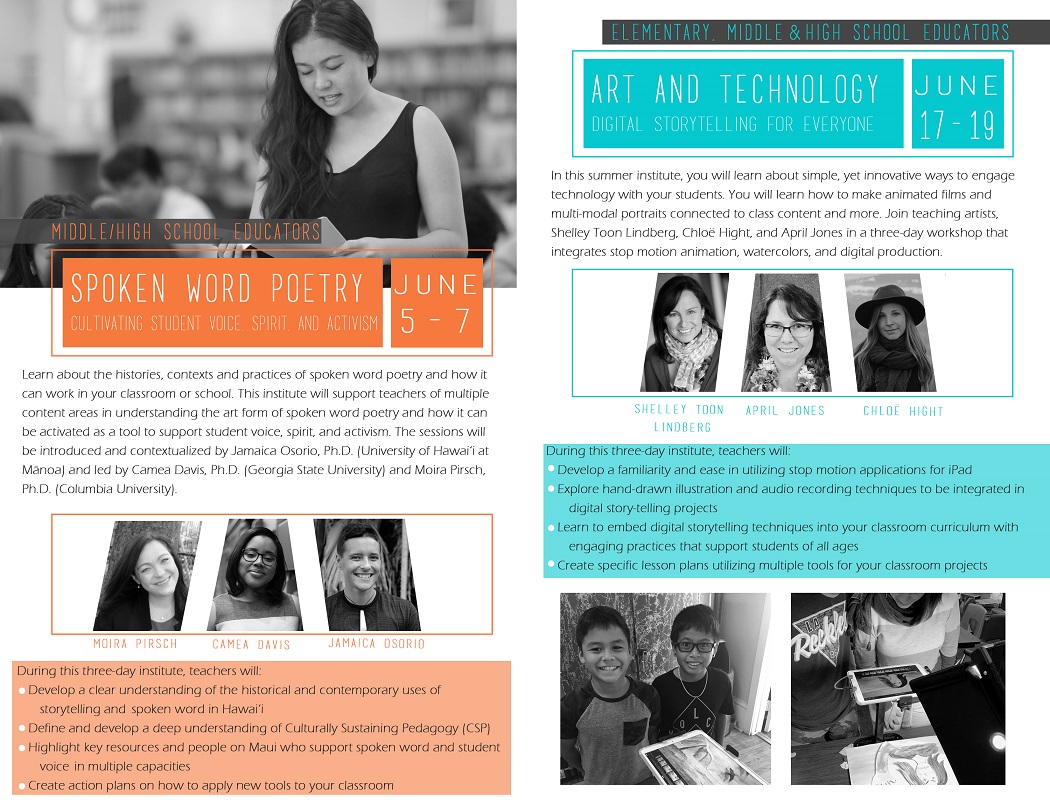 ---
2018 concentration was on 'HA': Na Hopena A'o, or HA, are learning outcomes rooted in Hawai'i, its people, and cultural history. This DOE initiative is being implemented throughout the state, and the Maui Arts & Cultural Center has gone a step further, to integrate these outcomes with the arts. In this summer's professional development for educators, we explored the six outcomes and the six art processes with which they have been paired, to give teachers an opportunity to creatively integrate these outcomes in their classrooms. BROCHURE VIDEO
---
TEACHER AWARDS DINNER - April 20, 2018
Once a year, the Maui Arts and Cultural Center honors the educators on this island with a celebratory dinner and award ceremony recognizing their commitment to the arts and professional development. It is a time and place for teachers to garner the recognition of their principals and their peers for the noble work they do.
| | | |
| --- | --- | --- |
| | | |
| Chadwick Pang, Rae Takemoto, Kate Welsh withe Level I awardees: Glen Eastman, Jody-Lynn Glickman,Daniel Schultz, Tami Saito | RaeTakemoto, Kate Welsh, Chadwick Pang with Level II awardees: Kristina Mekdeci, Melani Palmer, Leanne Dunn, Evelyn Suzuki, Maile Getzen, Dorissa Pelletier, Jill Schwindler | Chadwick Pang, Rae Takemoto, Kate Welsh with Level II awardee Eva Johanos |
| | | |
| Chadwick Pang, Level V awardee Nicole Heinlein, Rae Takemoto, Kate Welsh | Kate Welsh, Chadwick Pang, Rae Takemoto with Level VI awardees: Olivia Ren, Melekai Jensen, Ahlayn Labuanan | Chadwick Pang, Rae Takemoto, Level IX awardee Stephanie Young, Kate Welsh |
| | | |
| Chadwick Pang (l) with Master teacher Level II awardees Hazel Anningat, Lisa Fanning, Theresa Neek, Jennifer Saito; presenters Rae Takemoto (c) and Kate Welsh (r) | Chadwick Pang and presenters Rae Takemoto(l), Kate Welch (r) with Master Teacher Level III awardees Janice Acopan, Jaydon Isobe | Bittersweet Best Wishes to Rae Takemoto on her retirement at the end of this school year: Hazel Anningat, Rae, Kate Welsh |
| | | |
| Don Conover and Ernest Harada, the evening's entertainers | MACC volunteers - instrumental to the MACC's Education Department! | Don Conover, with Erin and Amber: student guest vocalists from Baldwin High School |
MACC's comprehensive
arts education programs include:

School Year 2019/19

program announcing

this summer

On Friday, February 2, 2018 teachers in upcountry/north shore schools attended the annual DOE-Maui "Waiver Day" and this year they elected to have their in-service day at the Maui Arts & Cultural Center. Waiver Day is a work day for educators, dedicated to teachers' professional development ( each segment of the DOE-Maui District takes their own day.) This time, instead of gathering upcountry as usual, all the educators in the King Kekaulike Complex schools (Ha'iku, Kula, Makawao, Pa'ia and Pukalani Elementary, Kalama Intermediate, King Kekaulike High) came to the Maui Arts & Cultural Center for their series of required professional development sessions - and MACC staff and teaching artists joined in on the lesson plan development with the Department of Education.
1)The King Kekaulike Complex became the first in the state to roll out Hawai'i DOE's new initiative, "Na Hopena A'o" ("HA"). Grounded in social-emotional learning and cultivation of a Hawai'i identity for Hawai'i students, Kekaulike class room teachers will begin to integrate "HA" standards into their pedagogical development.
2) In combination with the "HA" standards, the Kekaulike Waiver Day exposed their teachers to the benefits and the possibilities of arts integrated lessons. Teaching Artists and MACC Program Directors developed lesson plans with various art forms that work well with "HA" standards. Every teacher had the opportunity to experience these lessons first hand with the expert teaching artists at the MACC, and received materials to allow them to take these lesson plans directly to the classroom for use with their students.
Three hundred teachers were involved in their own education that day – and the effects of these sessions will be felt throughout Upcountry classrooms in the school days to come: through the DOE's "HA" initiative and through the strategies employed in arts integration area-wide - a key tenet of the MACC's education department for two decades!
PROFESSIONAL DEVELOPMENT SERIES