Paniolo: Stories & Songs of the Hawaiian Cowboy
There are no longer any performances available for this show.
Castle Theater
This engaging play by Moses Goods explores a remarkable period in Hawaii's history. From Ikua Purdy winning the 1908 World Roping Championship to the way traditional Hawaiian values and practice integrated with the paniolo lifestyle, the stories and songs will unlock a remarkable time in Hawaii's history, and will leave you with a grin as big as a rodeo.
Joining Moses onstage is Hawaiian singer/songwriter Kapono Na'ili'ili. Raised in Waimea, Na'ili'ili brings to life the music of the paniolo, drawing on his own childhood experiences growing up within the Hawaiian culture and lifestyle.
Together, the two performers paint a vibrant picture of the hardships and humor of some of Hawai'i's most notorious characters, from the arrival of the first cow to the traditions that shaped contemporary life in the islands today.
CLICK HERE
for the menu
CLICK HERE
for a video preview
Presenting Sponsors: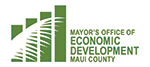 ---