Pundy Yokouchi Memorial Golf Tournament
Saturday, Apr 18 2020, 7:00 AM

The Dunes at Maui Lani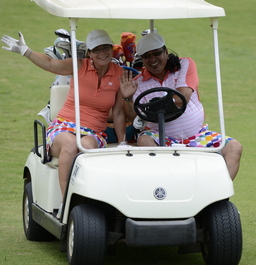 Due to the global crises related to COVID-19 that has continued to accelerate in scope and impact, we have made the decision to postpone the golf tournament to Saturday, July 25, 2020.

Your current registration will be automatically moved to this date, and no further action is required. If you are not able to attend the July 25th date, you may choose to donate your registration fee (100% tax deductible) to the Maui Arts & Cultural Center, or request a full refund.

Mahalo for supporting the arts during these uncertain times. We maintain the hope that all will be well and back to normal in the foreseeable future.


The 32nd Annual Pundy Yokouchi Memorial Golf Tournament is a fundraiser for the MACC's many arts and education programs for the Maui community!
The day will be full of good fun, refreshments, a luncheon at Café o'Lei, a chance to win $10,000 or a new car, and terrific prizes. Come play golf and support the MACC.
Tournament Information:
$300 two-person team entry fee includes:
Hole-in-one contest; closest-to-the-pin contest; Bulls-eye contest
Continental breakfast & goodie bag
Café O'Lei luncheon & refreshments
$550 hole sponsorship includes everything above plus
Entry fee for two (2) players
Signage with your company's name displayed at a sponsored hole
Recognition in program, on MACC website, & on select marketing material
Tournament Rules:
Two-person scramble, 2 putt maximum, minimum 6 drives per person
Total team minimum handicap is 8. Maximum handicap for men — 24; women — 36
Tournament handicap will be based on 30% of combined team handicap. Submit only established USGA handicap as of January 2019
Hole-in-one contests for either $10K or a new car will be held at each of the four par-3 holes
Individual closest-to-the-pin contests will be held at each of the four par-3 holes
The 5 lowest scores will be entered in a drawing for the top 5 prizes. Team members with the lowest score draw first and the highest score last. The rules committee reserves the right to make the final determination after reviewing all scorecards
Mulligans available: $20 for 2 Mulligans; 2 Mulligans/player
Pairing requests are not guaranteed
Rain or shine. No refunds given for cancellations
---