Christopher K. Morgan & Artists: TEK / TECH Workshop Series
There are no longer any performances available for this show.
Note that all times noted above are Hawai'i Standard Time.
TEK / TECH
is a series of virtual community workshops that share the collaborative tools utilized in the creation of Christopher K. Morgan & Artists' (CKM&A) new evening length dance
Native Intelligence/Innate Intelligence
to be performed at the MACC in June, 2022. MACC audiences will remember Christopher's
Pohaku
, that was performed in Castle Theater in 2016. All TEK/TECH workshops are FREE with pre-confirmed advance registration.
CLICK HERE
to register.
Working at the intersection of Indigenous informed practice (TEK:Traditional Ecological Knowledge), and multimedia technology for contemporary performance, the workshop series shares concepts and creative tools from the visual artists, lighting designers, projection designers, cultural practitioners, and movement makers creating Native Intelligence/Innate Intelligence.
Each session involves opportunities for participants to learn from CKM&A's multidisciplinary team of artistic collaborators, as well as moments for each participant to experiment with the tools in their artistic explorations. Materials for some sessions, easily found around one's home, will need to be gathered in advance by participants OR will be mailed to participants in advance. Workshops are for ages 16 and up. Registration is FREE!

To read more about Christopher K. Morgan and his collaborators with this series of workshops,

CLICK HERE

.
TEK / TECH is offering the following five workshops:
Entwined Artistic Practices: threading personal story and culture into our work
Saturday, May 15 / 10:00 am HST
(THIS WORKSHOP HAS BEEN COMPLETED)
Join Kumu Hula Patrick Makuakāne (Hawaiian), visual artist Brenda Mallory (Cherokee), and choreographer Christopher K. Morgan (Hawaiian) for a 90-minute interactive workshop in lei-making, sculpture, and creative writing. Christopher will guide workshop participants through a creative writing exercise before Patrick and Brenda guide participants in making a lei and a small-scale sculpture with the cloth and paper from Christopher's writing exercise. The workshop will conclude with a special preview of Brenda's scenic design live-streamed from the Dance Place theater, where Christopher will demonstrate how sculptures and lei-making will be incorporated into Native Intelligence/Innate Intelligence. Come learn, play and make with these artists!
Experimenting with Light
Monday, June 7 / 5:30 pm HST
(THIS WORKSHOP HAS BEEN COMPLETED)
In this workshop, participants will delve into and participate in the relationship between lighting designer and choreographer and learn principles and techniques to light their own performances at home. Guided by assistant director and company dancer
Tiffanie Carson
and lighting designer
Peter Leibold
through a hands on approach, participants will use items already in their homes to shape and control light and color to add to their choreographic work.
CLICK HERE
to register.

Crafting Aesthetic from Sensation
Thursday, June 10 / 5:30 pm HST
(THIS WORKSHOP HAS BEEN COMPLETED)
In this session, participants will gain insight into the creative process of three artists from different mediums: multimedia & projections design, lighting, and movement. Projection designer
Kelly Colburn
, lighting designer
Peter Liebold
, and company dancer
Abby Farina
invite participants to get curious about where they pull inspiration from and what that says about their intuition and the values that guide their choice-making. Through sensation-based prompts that inform their creative processes, Kelly, Peter, and Abby foster participants' exploration in real-time, examine how each artist might create in response to one another, and share ways of communicating between disciplines.
CLICK HERE
to register.
Digital and Sculptural Collaboration
Saturday, June 12 / 10:00 am HST
(THIS WORKSHOP HAS BEEN COMPLETED)
In this workshop, projection designer
Kelly Colburn
and visual artist
Brenda Mallory
will be in conversation about concept, creative process, and collaboration. These two artists discuss their own work and the journey of working with CKM&A to realize the visual landscape for
Native Intelligence/Innate Intelligence
. They discuss some of the similarities and differences of working with visual imagery in the digital realm and the physical space of building set objects. Participants are invited to share in idea-generating processes with a research exercise and by creating a miniature "set" or 3D collage that reflect some of the same methods Brenda and Kelly use in creating work.
CLICK HERE
to register.
Moving Through Materials
Friday, June 25 / 5:30 pm HST
Join costume designer
Marques Marzan
and company dancer
Jamison Curcio
as they invite participants to interweave their own lived experiences through story sharing, movement making, and reflecting on our relationship to material objects. Moving between these activities, participants will engage in dialogue around the importance of appreciating culture and place.
CLICK HERE
to register.
NOTE: Workshops are subject to change. Registered participants will be notified accordingly of any schedule changes.
Presenting Sponsors: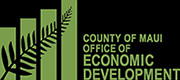 ---